Thermal Scientific Niton XL3t

The Thermo Scientific Niton XL3t handheld x-ray fluorescence (XRF) analyzer combines purpose-built, proprietary electronics with an ergonomic design and easy-to-use software, transforming XRF analysis. It does this through reduced measurement times, increased precision, and lower detection limits. The integrated, tilting, color, touch-screen display to the customizable menus makes it easy for operator to use and document results.


---
Copper Recovery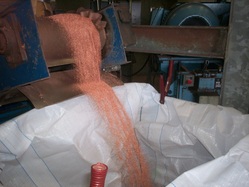 Our Copper process has been developed to produce 99% copper return from insulated wire. Our exceptional process separates plastic and PVC from the copper and end result is bagged for shipping. Several magnetic conveyers separate metals that can contaminate the process.

Our process is not just limited to insulated copper. Copper stamping, heavy gauge copper, tin plated terminals, brass, are among several other metals that we can efficiently process. Our equipment is regularly maintained and inspected to assure smooth operations and reduce downtime. Our two shifts allow us to maintain a well greased operation and a clean facility. Our flexible shifts and hours has allowed us to maximize efficiency and reduce operating cost.


---
Bailing Process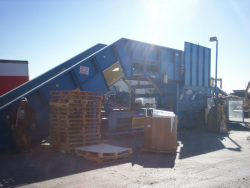 Bailing has been an intricate part of our operation. This has allowed us to bail a variety of material from hard metals such as stainless steel to cardboard, plastic and aluminum cans. Both bailers in our facility can compact bails at 1200lbs to 3000lbs depending on material. Our bailers enhanced features insure a well compacted bail wrapped with an 11 gauge wire system, which provides a dense package allowing shipping and handling efficiencies.

---
Steel Shearing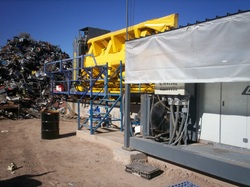 Our shearing industrial machine will cut any type of metal to a prepared size. This state-of-the-art machine will bail logs of prepared material that can easily be loaded to any trailer. Our accessible material handler(s) helps facilitate the separating of material and loading of steel logs. This process has increased the amount of metal we can receive at anytime. Our loading and unloading area is easily accessible and with our experienced operator(s) you will be in and out in no time.
---
Assortment of Materials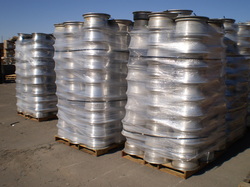 LSMI, also handles many other materials such aluminum alloys, brass, radiators, solder dross, stamping, busheling, E-waste, castings, plastic; PE, PP, ABS, PA, PS, PC, SAN, PVC, mixed resins, batteries, precious metals and metal packaging, in house tire shredding.

We are among the few facilities in El Paso registered in Texas as a 10 Day transfer facility that can receive your Class I dry waste for approved landfill. We provide this service with full compliance of state and federal regulation.


---
Products we Purchase and Sell

Copper
#1, #2, Light, Insulated Wire, Skulls
Brass
70/30, 85/15, Rod Brass, Yellow, Red
Radiators
Aluminum Copper, Auto, Aluminum
Stainless Steel
18/8, 304, 316, 400 Other Material



Aluminum Alloys
6063, 6061, 5052, 3003, 2024, 7075
Aluminum Items
Cast, UBC, Old Sheet, Mixed Low Copper, Solder Dross, Ingots